HOW WE MET (FROM ROTIMI)
NYSC, Lagos 2014.
"I was reluctant to go to NYSC camp but decided to go on the second day, little did I know that the experience will change the course of my life in the most beautiful way. Myself and Morayo were placed in the same platoon – 3. On the third day of camp I thought that I might as well make the most of the experience by engaging in activities."
"I met Morayo that morning after parade. She looked rather beautiful in her white tees, and NYSC hat (no one ever looks good in that). We talked and laughed even before I knew her name. When Morayo eventually found out my name she and her friend started laughing. Initially I didn't understand why, until she told me that her last name was Rotimi too!!. Soon after I took her phone and began scrolling through her pictures. We became good friends speaking often and after a while every day. I would often spend hours driving to the Island check up on her during and after work. Our friendship grew so stronger as she became my best friend."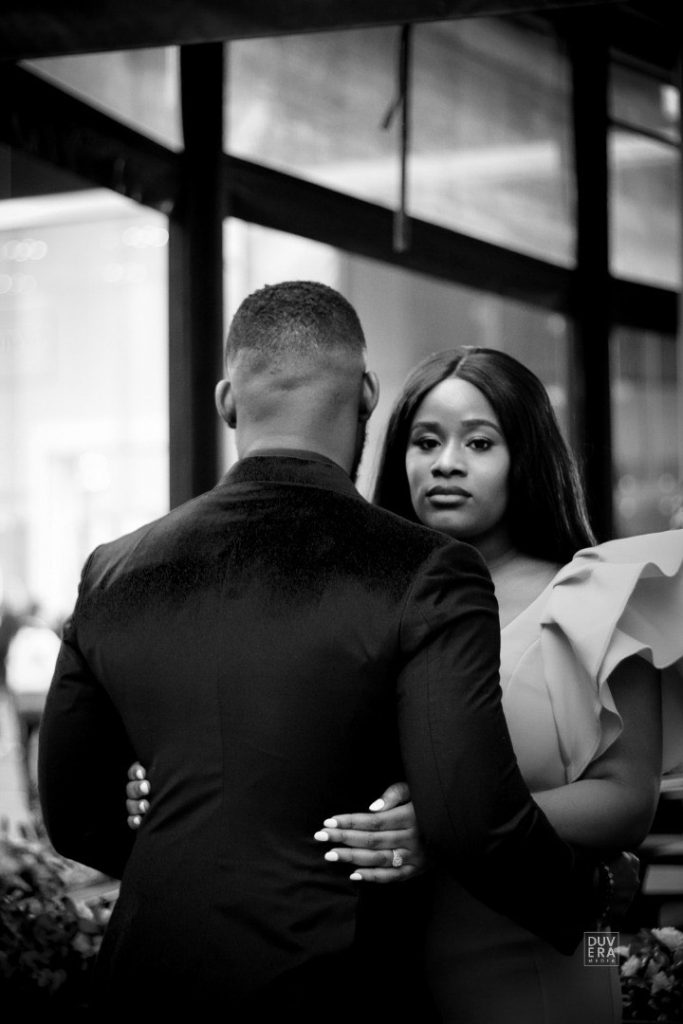 THE PROPOSAL
"Despite Morayo moving back to the UK, we've made so many amazing memories. I knew I wanted this for a life time and more so I thought of the perfect way to ask my Morayo to be mine forever. I read various articles on the best marriage proposals, but I was unimpressed. I Finally decided I was going to propose in Lisbon, Portugal after Morayo's brother's wedding. I had planned this for months and then the worst thing happened and I could not make it to Lisbon. So I had to re-think my plan and with the help of my mum, her mum, aunt, brother and sister-in-law (yes, I needed all the help I could get to ensure that she was unaware) so I embarked on a trip to Dusseldorf, Germany."
"Her brother and his wife convinced Morayo to visit him in Dussledorf. During the two days before her arrival, we were speaking throughout the day but she had no idea that I was not in Nigeria, but in a hotel 15 minutes away. The plan was that they would go sightseeing and we'd  coincidentally bump into each other at a restaurant overlooking the River Rhine, but miscommunication meant that we missed each other. I saw Morayo and David pass by the restaurant and like a kid in a candy store my excitement and heartbeat drastically increased "
"Morayo eventually turned around and saw me but she was so shocked that she stopped and walked away. I started laughing and she walked to me surprised and with so many questions.  In that moment I went down on one knee, told her how she is my world, and asked her to marry me.  It was such an emotional moment for us. She said yes, please. "
NOW LETS HEAR FROM MORANYO
The Day We Met
"Our story began in November 2014. In 2014 after my masters I moved to Nigeria to subject myself to the life faced by most Nigerian graduates (NYSC). At the time I knew I wanted a change and leaving the UK was the change I needed. After my mother's advice, I took the leap of faith … thanks mum! But looking back, I know that God had worked his wonders (Jeremiah 1:5). So back to the day we met, coincidentally I and Rotimi were placed in the same platoon '3'. I met Rotimi after NYSC morning drills on the 4th of November 2014.""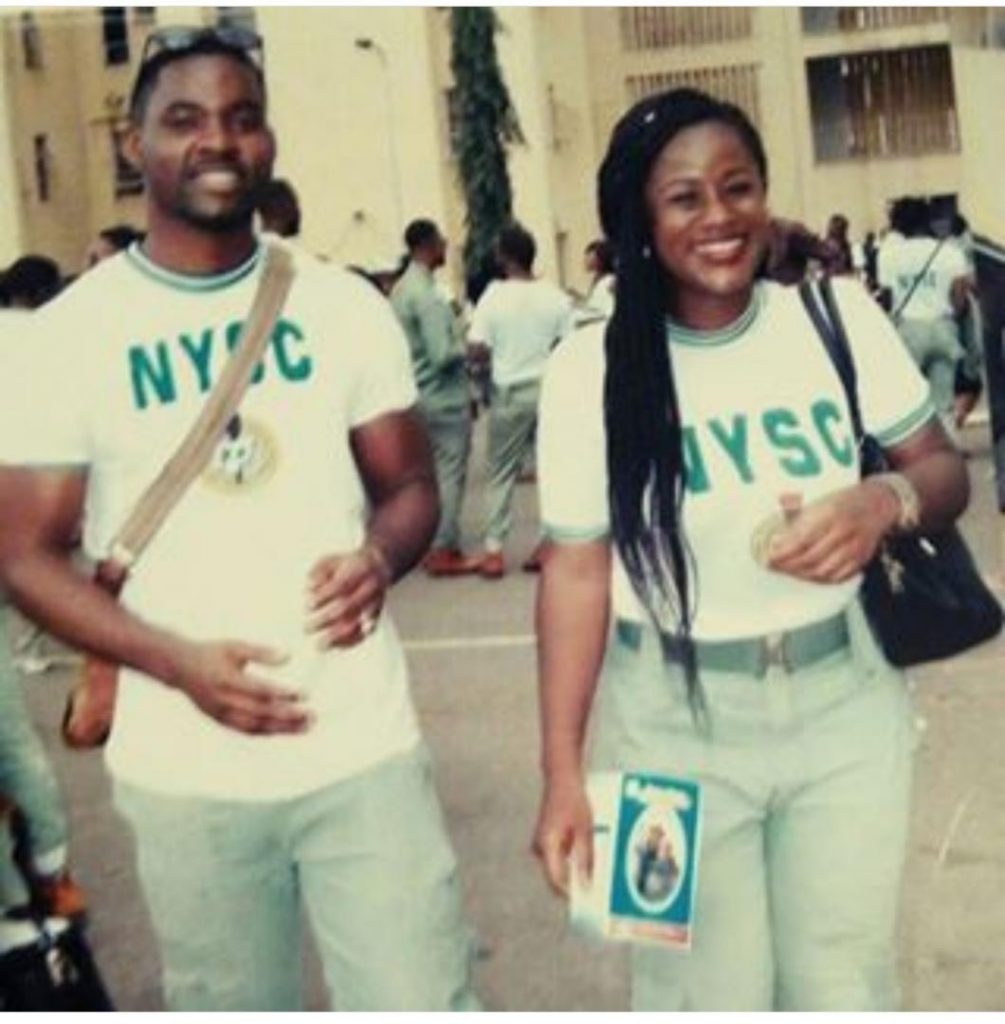 "I was surprised when 'he' introduced himself as 'Rotimi' and in that moment, I and my friend had a little giggle. You know that feeling of being the only black person in a room and when another black person walks in you get excited, yes! that's how I felt. At the time, besides my family I had not met anyone that had my last name as a first"
"That same morning Rotimi took my phone and without asking he casually went through my pictures, so I politely asked for my phone back. Three weeks in camp and we regularly spoke, often bumping into each other on the parade ground or mami market. We survived three weeks in camp, and I was glad when it was over! but our story continues…"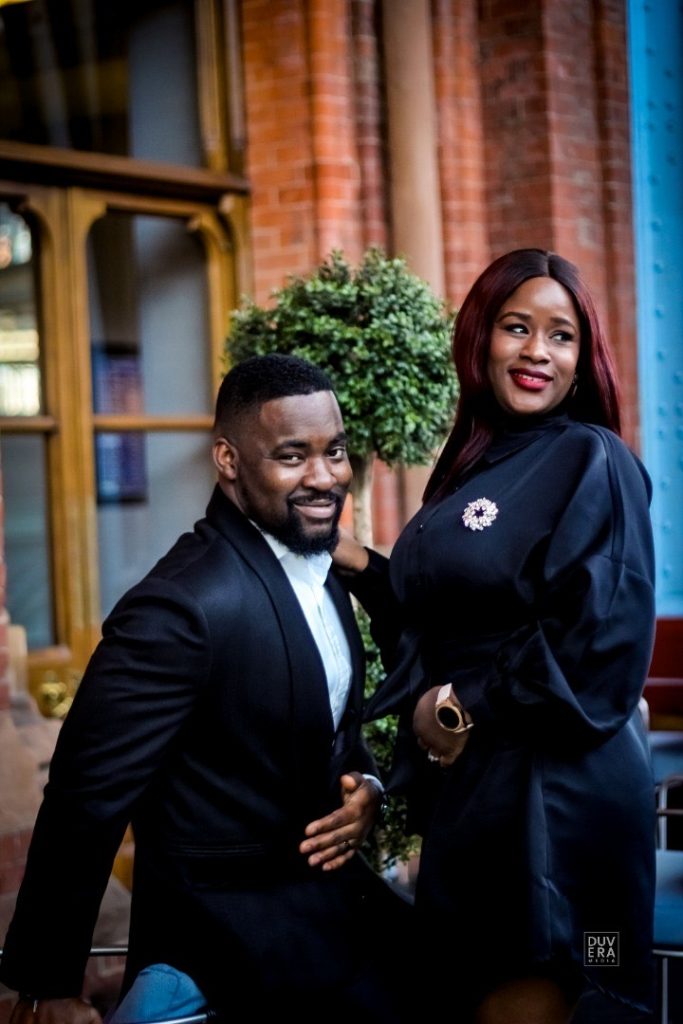 THE BEST SURPRISE EVER!
"So my brother David, had recently moved to Düsseldorf, Germany and his wife offered me her return ticket to Germany as she was unable to travel due to work. On Friday 21st June, 2019 after work, I went to Düsseldorf. I was super excited because I hadn't been to that part of Germany and I looked forward to catching up with David after his wedding. On Saturday morning 22nd June myself and David commenced our tour of Düsseldorf. After a lot of tourist behavior we ended up at the River Rhine over looking the beautiful scenery. Suddenly David kept using his phone and it occurred to me that something wasn't quite right. I turned around to ask David why he was on his phone and there he was! ROTIMI… huh.. wait… what?.. how… I thought my eyes were playing tricks on me. How could he be here when he's meant to be in Lagos!! What is he doing here. I was so confused and I literally walked to him and then I walked away. I turned back to check if he was still there and he was. I walked towards him and he got down on one knee "
Morayo (Lola)